Flock on in for these kid-friendly educational activities.
Enjoy treats, sign-up to win door prizes, and more!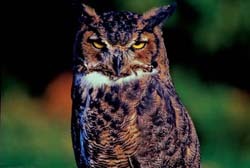 Saturday, March 24, 11 a.m. to 1 p.m.
For the Kids!
Create a picture of an owl out of birdseed with Associate Janice McIntyre.
Saturday, March 31, Noon to 1 p.m.
Meet E.T. the Great Horned Owl and Doris Mager
Learn about owls in this dynamic presentation. For a donation to Save Our American Raptors (SOAR), get the opportunity to hold ET.